Buggs Story
I'm glad you've visited the Buggs Story page and want to know more about us. Here you'll find more than you want to know about our story. I hope you enjoy it.
Significant Events
Three significant events happened in 2008 and 2009 that lead to the creation of Buggs Fishing. In 2008 I entered a fly tying contest put on by Fly Tyer magazine. This lead to the creation of the Middleweight Fly, inspired by Dorsey's Kwan fly and using a double bunny tail.
The second event occurred as I browsed through Fishing Tackle Unlimited, a large tackle store in Houston. I stumbled upon a Wiggle Jig, and instantly saw lots of possibilities.
The last occurred during 2009 as the work I was doing continued to dry up and eventually disappear. It was not a good time to be in the middle of the Banking, Real Estate, and Construction businesses. But this created the time and freedom it took to start the business.
Fly Tying Contest
I don't exactly remember what got me tying with bunny, but it probably started before my one and only bonefishing trip. I tied up some bunny flies to take to the Bahamas in January 2005. I learned how to palmer bunny to create the Simram fly with the help of Anthony Grice, who used to work at Angler's Edge in Houston. I didn't use them on my trip, but caught a bunch on Gotcha flies I tied up. But that got me started, and I learned how cool bunny looked in the water and got started tying with it.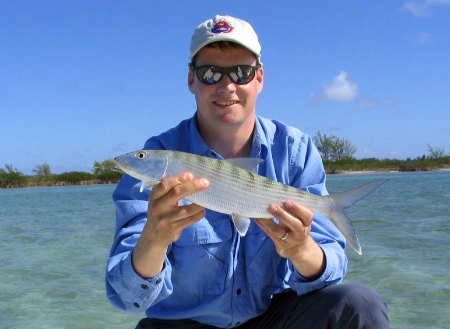 Then I found Scott Sanchez's Double Bunny pattern and learned the cool history behind the fly. That's when I started tying bass and saltwater flied with the larger, magnum cut bunny strips. I got pretty good at tying the Double Bunny and started experimenting with other ways to tie with bunny. I learned about all of the different colors available from companies like Hareline Dubbin and Wapsi, and all of the different cuts you could order.
In 2008, I entered a fly-tying contest put on by Fly Tyer magazine. The idea was to submit a pattern of your own creation plus your take on a classic pattern. I had been working on a version of Dorsey's Kwan fly using a double bunny tail. I couldn't get it to sink correctly until I moved the weight from the eye of the hook to the middle of the fly where the orange egg sac was located. That innovation lead to the Middleweight fly, which was one of my entries to the contest. The other entry was a beefed up version of Blanton's Whistler fly using a double bunny tail and palmered bunny behind the eyes.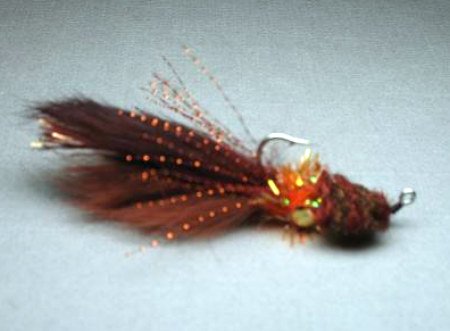 I didn't win or place in the contest, but entering it was fun and good practice. I began using my double bunny flies bass fishing. I learned the advantages of bunny and also the limitations. When bunny strips got wet, they became a lot heavier and more difficult to cast with a fly rod. I experienced this first hand on a fly fishing trip to Lake Raven in Huntsville State Park. I was fishing from my kayak, casting a 5 inch double bunny fly and it was wearing me out! The fly looked great in the water, imitating a Senko, my favorite plastic worm. But I knew there was a better way than sitting in my kayak trying to double-haul that huge, water-logged fly.
Story Intermission A (If you want to know how I got started tying flies, click here)
Wiggle Jig at FTU
Somewhere in 2008, I was walking around in Fishing Tackle Unlimited. I went there whenever I came through to chat with my friends in the fly-fishing department, Chris Phillips and Andy Packmore. I had known Chris for a long time, and was always eager to talk with him about my ideas. He was a very encouraging and enthusiastic person, and I'm glad that I got to know him before he passed away.
On this day, however, Andy was the one working the section. As we were talking I noticed a little lure hanging in the fly fishing department. He explained that it was a Wiggle Jig, and people used it for bonefish in the tropics. He also said he knew a lot of people who threw it for redfish along the Texas Coast.
I thought the jig head design was really cool, and knew it would land flat and hook point up. Then I saw the little 1-1.5 inch tuft of bucktail tied in for the wing. After tying with bunny for the past few months, I saw lots of possibilities in replacing that bucktail with bunny. I asked Andy then and there if he thought it would look good with bunny instead of bucktail, and he gave me an enthusiastic Yes!.
What followed this little revelation was months of research online where I discovered that this style of jig head was called a skimmer, and it was popular in Florida and the tropics for bonefish and other flats species. I instantly began looking for plain jigheads to tie bunny to, and found a good source. I say good, because they had lots of shapes, sizes, and colors.
I learned however, that all the skimmer jigs I could find were made with the same type of hooks. They had a narrow gap, an inexpensive finish, and corroded quickly when exposed to saltwater. This wasn't going to be good enough for the jig I had in mind, so this added a custom jig head mold to the list. I hate sharpening hooks, and can't stand it when you take a lure to the salt once or twice, take the time to rinse it off, and it rusts. I mean, if you're going to do something, why not do it right?
Story Intermission B (If you want to know about our Custom Molds, read this)
How's Business? (cue the falling bomb whistle)
For three years I had a good job, and then commercial construction started slowing down. I watched our little company get slower and slower starting in early 2009. I was the number two man out of two men, so I knew what would be happening down the road if things continued. The good news was that this started freeing up my time. And since I can't sit idle for more than two minutes without getting frustrated, my mind started trying to piece together a side project.
I instantly landed on my fishing lure idea, and here is how it came together. My buddies and I take advantage of the Bay Flats Lodge February special every year. The weather is never the same, but the fish are there and the guides know where they are. We hold a contest every year where each of us add up the lengths of our longest trout and redfish to determine the winner.
For the 2009 trip, I had a small selection of the earliest Flats Bugg versions tied with double bunny tails on the jig heads I had purchased. Testing these early versions was a significant event, and would serve as confirmation of my idea. No confirmation was needed on my desire to create a fishing lure I could tie like a fly. That was the whole idea: to be able to tie a lure I could catch fish on. I loved tying flies I could fish with, but didn't fly fish all the time. So here was my chance to bring my love of tying and creating something new to the lure fishing I did most of the time.
It was windy and cool for our trip, but like I said, the guides knew where the fish were. We got to a shallow lake where I thought there would be redfish, and my buddy Travis and I started our wade. Travis was out in front of me and picking up a few fish on soft plastics. I had my most elaborate prototype tied on, a red and rust colored lure. And what do you know, fish on!
I could hardly contain myself as I landed the red! Here was the culmination of months of work, and confirmation that my idea was a good one. I caught a couple more on the lure, and when we got back to the boat I found out Jeremy had caught a few on a different prototype I had given him. That increased my excitement even more! (Travis won the contest that year, and I think that was his second win in a row after some disappointing results early on. Nice work, dude.)
Next Steps and a New Mentor
Coming back from our Bay Flats trip, I had a lot on my mind. Here is another interesting aspect of the fishing lure idea: What do I do with it? I knew I couldn't support my family making these lures myself. I knew it could be a hobby if I made them myself, and maybe I could sell a few, but nothing of much significance would come of it. So I followed up on a lead of sorts I had learned about a few months prior.
My initial idea on a business plan centered on finding a partner in the fishing tackle industry who would help me produce and distribute the lures. We would split the profits, and I would supply the ideas, development, and then help out wherever I could. And they would use their sales channels, production capabilities, and industry know-how to get the lures into the hands of fishermen.
My first contact in the fishing lure business proved to be a good one, as I found someone who was willing to listen in Tal Cowan of Texas Tackle Factory. Actually, Tal wasn't the first one I talked to at TTF, but he answered my email after the trip and wanted to hear about my idea. I found a simple non-disclosure/non-compete, and we met for lunch.
He liked my ideas from the start, and became a mentor to me. We talked off and on about some type of license or royalty deal, but never came to an agreement. But for the next year or so, we kept in touch regularly. He was a great sounding board for my ideas, answered lots of questions, and helped me tremendously.
The culmination of his help, which helped me launch the line, was at the 2010 Houston Fishing Show. In exchange for helping him work the TTF booth, and out of the kindness of his heart, Tal gave me a little space for me to set up and sell my Buggs. I'm eternally grateful for everything Tal did for me. The show was a tremendous success as I was able to get my lures in the hands of fishermen and talk about the to whoever would listen.
Story Intermission C (If you want to know about our Production, read this)
The End...
Now you know how Buggs Fishing came to be, so that's the end of this story. I had lots of help along the way, and have found folks in the fishing business to be kind and helpful. Other folks I'd like to thank are Lane Teykl and Glynn Walling of Midcoast Products, the best popping corks on the planet! Lane and Glynn have been great encouragement, and have helped me learn how to heat and pour lead, and given me tips for the little-guy in the fishing tackle industry.
Mike and Melinda Dickey have also provided encouragement and small business tips. And their business, Grind Terminal Tackle, was my first account. They continue to sell Buggs through their website and up and down the coast at Fishing Shows, Tournaments, and Festivals.
Adam and Mac of Fish-N-Hunt Pro Gear have believed in the idea from the beginning. I'm thankful for their partnership and look forward to seeing how far we can take this thing. My parents and my wife's parents have also been very supportive, and I wouldn't be here without them!
My parents, Bill and Cindy Hippel, have been very helpful and supportive along the way. I'm eternally grateful to my Dad for taking me hunting and fishing as soon as I was old enough. He he loves the outdoors, and has always been a safe and ethical example. My in-laws, Mike and Cheryl Snyder have also been very supportive and encouraging. We have a great relationship that I'm very thankful for.
The last two are the most important. I want to thank my wife for believing in me and encouraging me to build the business. Her faith in me and faith in God are much appreciated. And I want to thank God for the mind he gave me, for providing for my family in tough times, and most of all for sending His Son, our Lord and Savior Jesus Christ. This good news, the Gospel, is hope to all who believe.
As it is written: And everyone who calls on the name of the Lord will be saved. Acts 2:21
...and the Beginning
Better yet, the end of the beginning. It's definitely the beginning, for a few reasons. First, because there are dozens of ideas floating around in my head. Second, because this is a fun business, and everytime I hear that someone caught a fish on a Bugg it warms my heart, almost as much as if I had caught it myself. And third, but definitely not last, fly fishermen are always coming up with new patterns and new materials. And I get to figure out which ones will translate best as Buggs and how to make it happen!
So keep in touch, we have a lot of ideas and a long way to go. If you have any questions about any of this, want some advice on what to do with your own ideas, or anything else for that matter, drop me a line. I'll help however I can. I've been (and continue to be) helped along the way, and will be glad to do the same for you.
Tight Lines,
Heath Hippel
Owner and Founder, Buggs Fishing
---
Home
> Buggs Story
---