Catch of the Month
We came up with the Catch of the Month to honor significant achievements with Buggs Fishing Lures by our loyal customers. We wanted an enhanced testimonials page, showing pictures and telling the fishing stories from the best catches we hear about. And to sweeten the pot, we offer $25 in Buggs Lures and Gear to each of our monthly winners!
The rules are simple: Send us pictures of your best/favorite/most significant/weirdest/wildest catch using Buggs Fishing Lures. Make sure your picture is a quality one, with the Bugg in the fish's mouth. And send us the story of your catch, what the conditions were, and any other information significant to the story. Send these to my email address: hhippel777@yahoo.com. Every month we'll pick the Catch of the Month winner!

You can enter as many times as you like, our Fishing Guides can enter their customers, and we'll keep everything on file. You're eligible for future Catch of the Month honors once you've entered. We think it will be a fun way to honor your efforts and see the awesome catches with Buggs! By the way, you'll see gaps below when you look at the winners. It's not that we're picky about these winners, it's that we don't get enough submissions. The message? Can't win if you don't enter!

January 2015
I was super blessed to receive two awesome submissions for the contest this month. Congratulations to dedicated kayak fishing guide Dee Kaminski of Reel Kayak Fishing Charters, co-winner of this month's Buggs Fishing - Catch of the Month contest! To date, this is the largest speckled trout I know of caught on a Bugg! I'll let her tell the story...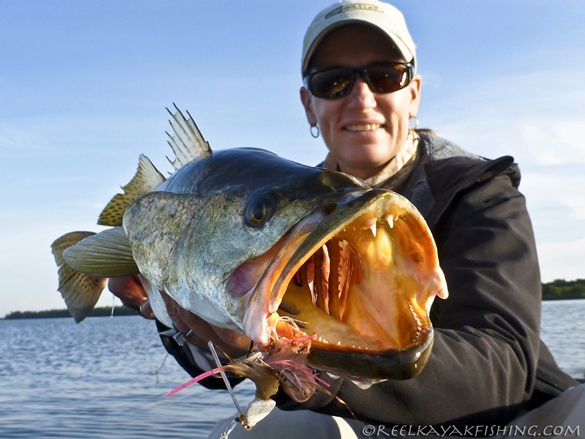 I couldn't believe I was able to fish a whole 2 miles of the Florida flats to myself. It was understandable, however, as a cold front had pushed through. It was cold and windy but sunny. Many kayakers do not want to fish in these conditions. The casting areas to target redfish and "gator trout" are in and around sand holes where they would be warming themselves in the sun.
I chose to offer the Beastie Bugg in PBT as it mimics the color of a shrimp, their food of choice this time of year. I spent the day casting and landing several slot redfish and trout but was hoping to get a "gator trout", something above 26 inches in my book. Just about done for the day, I cast into my last pot hole. I let it sink to the bottom and twitched it one time and then "THUMP", this gorgeous 27+ inch gator trout inhaled my offering. After a quick photo I released her back into the cold water, hoping she'd give another person the joy in catching her like I had just been given.
- Dee Kaminski, www.reelkayakfishing.com
Congratulations also go to Thomas and Kaylin Barlow, the other winners of the Buggs Fishing - Catch of the Month contest! To say I was excited when I received this picture wouldn't do it justice. They took a fishing trip of a lifetime, in their words a "bucket list" trip, and caught some awesome fish on Buggs! I'll let them tell the story...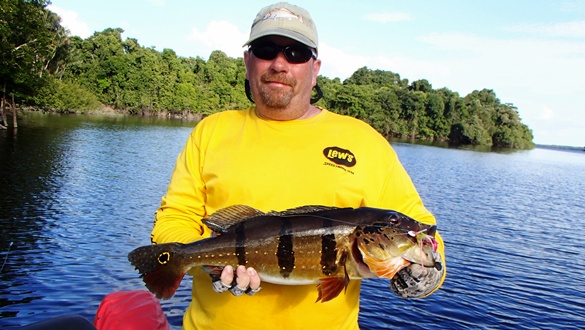 Team Notorious goes to Brazil for Peacock Bass fishing on the Rio Negro with Buggs! When we packed for the trip, tucked away in our tackle bag, we brought with us some new ultra-cool Hydra Buggs! (Thanks Heath!) We took black, pink and chartreuse. We weren't sure if we could catch Peacock bass on them but if it could be done we were going to try it!
Not only did the Buggs work but we were able to use them successfully for peacock bass in several ways. We threw them tipped with a Down South soft plastic lures at missed topwater blowups. Thomas also threw at submerged stumps and lumber for butterfly peacocks. He even found a Beastie Bugg in our tackle and caught some butterflies on that! Black was definitely a color that they went for in the dark stained waters of the Rio Negro but we also found that they liked the pink. The chartreuse was bit off by something with sharp teeth pretty early on so unfortunately we don't know if they liked that color. We had a fantastic trip and are looking forward to the next one!
- Captains Thomas and Kaylin Barlow, www.notoriousguideservice.com
January 2014
Congratulations to Mike Bishop of Houston, Texas, this month's winner of the Buggs Fishing - Catch of the Month contest! In the past few years several local guides have been offering trips in Louisiana where wintertime fishing for huge reds in skinny water can be absolutely epic. Here's the first email I received from Mike:
"Just wanted to send you a couple of pics from our trip with Captain Scott Null earlier this month in Grand Isle, LA. I had us rigged up with 3/8 oz Curl-Tail Buggs, Hot Pink for Anna and Black Gold for myself. Only two lures we threw that day for 11 fish and a total of 189#'s! Good Stuff, keep up the Buggs, Thanks - Mike."
Here is the rest of his story...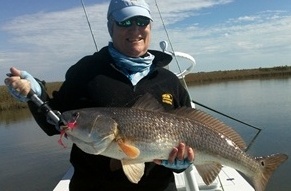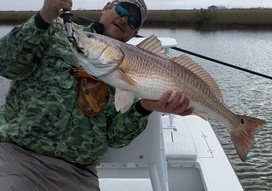 It was def a lifetime trip, we were the first conventional casters over there this year. We were blessed with one of the best days weatherwise and the sightcasting was perfect. We love chunkin Buggs. I picked the 3/8 oz. thinking of the wind and casting distance but the sight shots were 10' – 20' on average, but those big reds liked the larger profile just fine.
- Mike Bishop
February 2014
Congratulations to Pierce Hardacker of Carmel, Indiana, the latest winner of the Buggs Fishing - Catch of the Month contest! Pierce's Dad sent in this great pic and told me that he had tied several crab patterns after receiving his bonefish jig heads. I've been waiting for an email like his and it gave me a tremendous thrill to read it! And boy what a permit! Jim said it measured 32" I'll let him finish the story...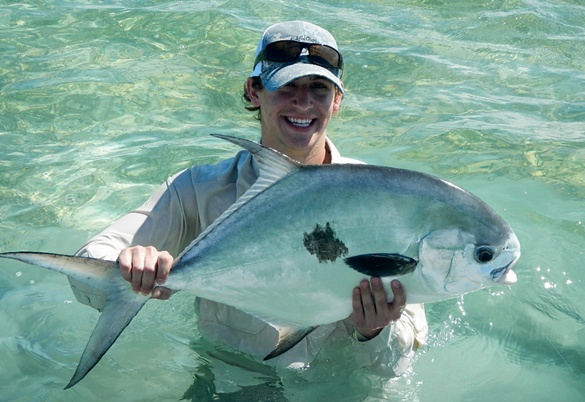 On a recent tarpon flats fly trip to Belize, we encountered a group of large Permit that eagerly attacked a Buggs shrimp fly we tied. This 32 inch Permit loved the fly and its action. The rest is history. Great design for spin or fly presentation. Colors are limitless.
- Pierce Hardacker

February 2013
Congratulations to Kyle Jud of Lakeway, TX, winner of the first ever Buggs Fishing - Catch of the Month honors! Kyle caught this largemouth bass that tipped the scales at just over 8 lbs. He was sight fishing beds in Lake Austin and used a 1/4 oz. Hot Pink Bugg without a trailer. Kyle chose the new Beastie Buggs as his winnings, and we're tying some in all Hot Pink just for him! Below the pics you'll hear his story.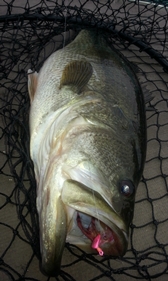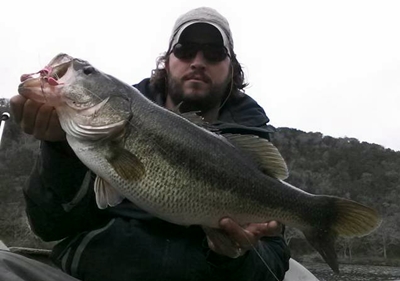 The Buggs jigs are an excellent bed fishing bait for several reasons. The bright color of these jigs is perfect for low light or low visibility sight fishing. If the bass prefer a natural look, Buggs has got me covered there too. The bunny holds scent really well, and the design of the jig allows you to shake it in place and give it action without moving it off the bed. The brush guard is effective for keeping trash off the lure, but subtle looking and doesn't get in the way of a solid hookset. The hook never lays on its side, they're super sharp, and they have the muscle to handle big fish. Buggs is a winner for big spring bass!
- Kyle Jud
March 2013
Congratulations to Zach Priddy of Pearland, TX, the latest winner of the Buggs Fishing - Catch of the Month contest! Zach caught this 21 inch Flounder fishing the South side of Christmas Bay from his kayak. He was using a Pink 1/4 oz. Double Bunny Jig. Below the pics you'll hear his story.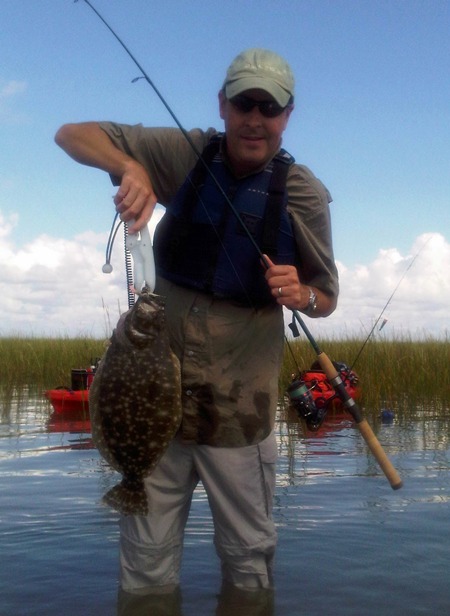 Last Summer was my first season kayaking, and late in September I was fishing the South side of Christmas Bay with a buddy. There's a channel I like to fish that holds lots of flounder and redfish. This flounder was my biggest of the season! And the guy who was with me was using live shrimp and not catching anything! The Bugg beat out the live bait! - Zach Priddy

April 2013
Congratulations to Jake Warren of Atkinson, New Hampshire, this month's freshwater winner of the Buggs Fishing - Catch of the Month contest! Jake eats, sleeps, and breathes fishing and is a self-described bass fishing addict. He caught these nice largemouth bass on the Curl-Tail jigs. I'll let him finish the story...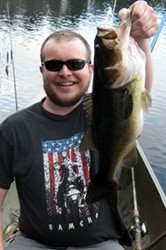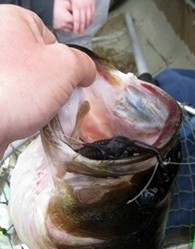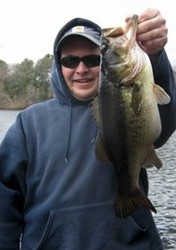 This spring has been my first experience fishing Buggs Jigs and they have been awesome! I have done everything with them from flipping and pitching laydowns and vegetation to swimming them across shallow flats looking for pre-spawn bass. I have caught several Largemouth over 4 pounds on them in April alone including a couple over 5 and one over 6. They have a great and very unique action when either shaking or hopping the jigs off the bottom, and they show the bass something a little different than what they are used to seeing.
Hooksets have been great and pinned the bass on nearly every bite I've had. I've hooked them right in the roof of the mouth due to the bait standing up very well because of the flat head. The rabbit strips have shown nearly no wear, especially compared to standard bass jigs with silicone or rubber skirts. My most productive colors so far this Spring have been all black and a few other bluegill imitating colors, with several bass as well as a few pickerel including a new PB on these colors. Thank you Buggs Fishing for a great product!
- Jake Warren
May 2015
Congratulations to Andrew Walla of Poteet, Texas, this month's winner of the Buggs Fishing - Catch of the Month contest! Andrew found my number on the front page of the Buggs Fishing Store and called me one afternoon. He told me about a trip he and some buddies had planned to South Texas. I was happy to help him choose the best Buggs for the type of fishing he was doing. When he returned he had quite a report! I'll let him tell the story...


Heath, Thanks for all the support over the phone before I purchased the Buggs lures. After discussing with you the type of fishing I would be doing and the location we came up with some Buggs lures for me to try. They were just as good as I expected. My buddy and I made a trip to the land cut where we stayed for 4 days. Weather conditions were not perfect but we managed. We had a steady SE wind that never got below 12mph and gusted up to 25mph. We headed out to the flats the first evening and found reds popping shrimp. My buddy tied on a Buggs Double Bunny jig in the New Penny color and I tied on a Curl Tail jig in Black Gold. The first red we crossed spooked and entered torpedo mode. I made a hail mary cast and what do you know within a second my spinning reel is singing a sweet tune. We continued wading and shortly spotted another. My buddy makes a cast and mutters when the Bugg hits the water because it was about 3ft from where he wanted it. Turns out when you have Buggs tied on it doesn't matter, that red entered torpedo mode and soon after his reel was singing the song of their people.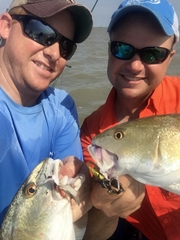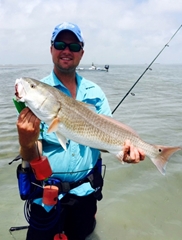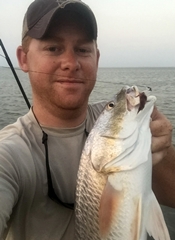 We continued to chase reds on the flats and under birds working in deeper water. We were able to get a few double hook ups under birds. Our method was the first guy to hook up would set the hook then loosen his drag a lot to keep fish from splashing while the second guy casted and hooked up. We ended up with a total of 42 keeper redfish all together and 4 were oversized, all caught on Buggs. It was a trip for the books thanks to the Buggs!
- Andrew Walla
May 2013
Congratulations to Travis Johnson of Harlingen, Texas, this month's winner of the Buggs Fishing - Catch of the Month contest! Travis is a long time Buggs fan and fishes the shallow flats of the Lower Laguna Madre. He contacted us about a fishing trip to Louisiana and we hooked him up. I'll let him finish the story...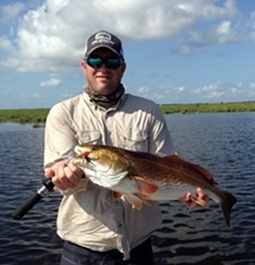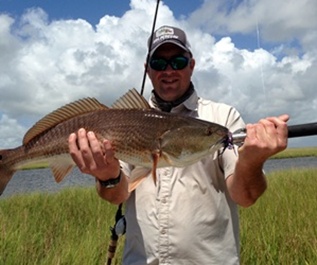 These reds were lazily swimming near the surface right next to a flooded grass line. I pitched the Buggs Curl-Tail Jigs to them and they jumped on it like a kid on a cupcake! The soft landing and realistic look makes this my go to lure for sight fishing reds. Plus with Buggs, you never know what you're going to catch!
- Travis Johnson
As proof of that last claim, Travis also provided us with these shots of fish he's caught on Curl-Tail Buggs.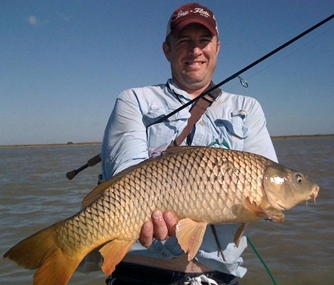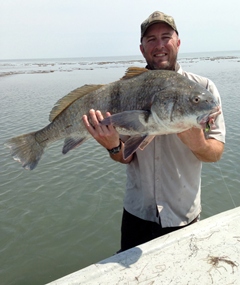 May 2013
Congratulations also go out to Scott Tilley of Edna, Texas, who shared an awesome report from the Galveston stop of the Lone Star Kayak Series Redfish Tournament. Here is his story...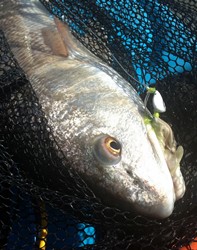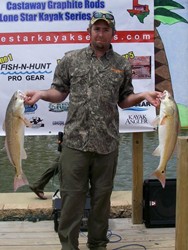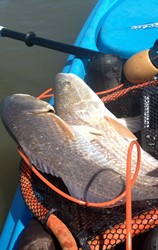 I just have to say, I fished the Lone Star Kayak Series Redfish Tournament on 4-20-2013, and my two weighable fish were caught on Buggs, the Glow Chartreuse Curl-Tails. I weighed in 13.56 lbs and took 8th out of 81 anglers. It was every angler for themselves and I had a ball. I wasn't sure how redfish would react to them. I have just used them for trout, and had a lot of success with them. But now Buggs is a primary lure on my rods at all times.
The day was windy starting from the north east about 10 mph and shifting to the south east around 9 am. I ended up fishing in the shallows and sloughs and just sight fishing. I crept up on my two tourney fish and tossed the Bugg near them. It was a sight to see them turn and crush the bait! They are an awesome bait and I will have them on my rod and reel at all times. Thank you for making such a fine bait. 8th out of 81 anglers and every man for themselves, no prefishing. I can't beat it with a stick. I ended up in the money and got good awards for the place. Thank you very much. I love sight fishing for redfish and now with the Buggs I am even more dangerous!
- Scott Tilley
June 2014
Congratulations to Captain Charlie Crue of West Newbury, Massachusetts, this month's winner of the Buggs Fishing - Catch of the Month contest! Charlie caught this solid striper on an eel prototype tied on the Hydra head while fishing the Merrimack River. Here's his story.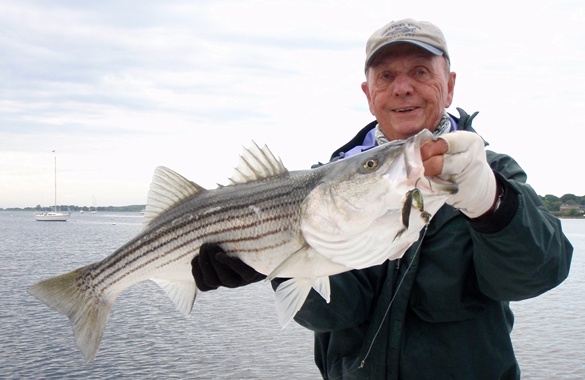 Last Friday I had a free day and wanted to do some fishing to scout out fish for my charters on Saturday and Sunday. I fished a spot that has been producing decent striper action. I had decided to use only your prototype sand eel lures, and here is a quick summary of my results: I made a couple casts, then on about the third one I had a hit. It was a schoolie about 17 inches long. On the next 2 consecutive casts I hooked two more of about the same size. After a few more more casts I had a solid hit. I knew right away that it was a bigger striper. It took some line against a pretty tight drag setting. I played it easy and finally got it next to the boat. It measured 32 inches and probably weighed about 14 pounds. I set my camera on time delay and took a quick photo before releasing the fish. Later I was trolling the lure as I moved across the flats. I had the rod over my shoulder and suddenly I felt a jolt. I had another striper. Later I got another one that way. Over all I caught 12 stripers over the 4 or 5 hours that I fished. I am attaching photos.
June 2013
Congratulations to Trey Briggs of Houston, Texas, this month's winner of the Buggs Fishing - Catch of the Month contest! Trey caught this Tripletail on a Blue Crab Curl-Tail Bugg while fishing Galveston Bay. Here's his story.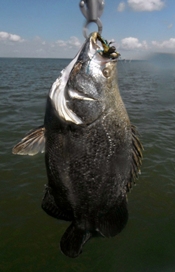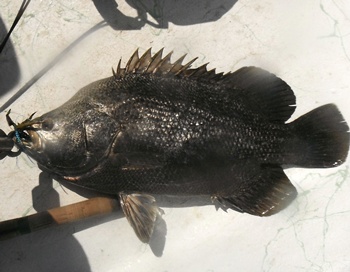 We were fishing lower Galveston during some awesome weather and were doing pretty well. Had one trout short of a limit around mid-morning so I decided to cruise on out to a mid bay reef to see if I could get one more before getting my reds. Five minutes into the drift I see something cruising along about six inches below the surface, so I drift a little closer and realize that it's a tripletail! At this point I was standing on the dash of my console trying to get a better vantage point and I freaked out and nearly killed myself jumping down from the console... but grabbed my sightcasting setup I have with a blue crab curl-tail bugg on the end and put the bugg two foot past his path, twitched it three times and he demolished it! One heck of a fight and five minutes later I got him in the boat. That was the first tripletail caught on the new shoalwater boat it couldn't have gone more perfectly! Just another reason why I always keep a buggs lure on at least one rod in my boat. I've never had more confidence in a bait for sightcasting as I do with buggs and they'll work for just about any fish you can find in the bay!
- Trey Briggs
July 2013
Congratulations to 12 year old Parker Carruth of Missouri City, Texas, this month's winner of the Buggs Fishing - Catch of the Month contest! Parker and his family were on a fishing trip in Bimini where they got into some chicken dolphin. Parker used one of the new Bonefish Jigs to land his first ever dolphin, and the first we know of on Buggs! I'll let him finish the story...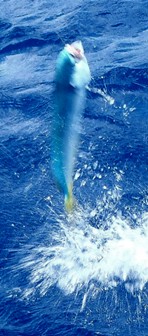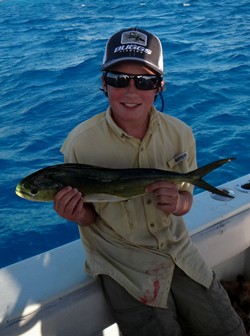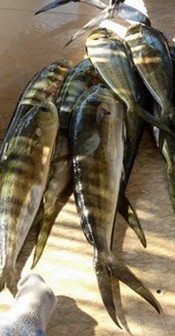 We had been trolling most of the day with great results when we suddenly noticed birds working a few hundred yards away. Our first pass through we had double hook ups, but both came unbuttoned. My Dad then tied on a Bugg for my sister and me before we went back towards the school of dolphin. My Stepmom saw the school within casting range of the boat and my dad told us both to cast! We both immediately got explosive strikes and were hooked up. The fish jumped real high in the air several times. My sister lost the two she hooked up with, but I got mine. Great trip and I will never forget my first dolphin, they are pretty fish.
- Parker Carruth
Parker's Dad, Jason Carruth, continued this theme closer to home. Check out the picture on the far right and hear him tell the tale... Went out of Galveston yesterday and hit a weed line on the way to Stetson Rock. There were three of us fishing. I had a 3/16th oz Bonefish Bugg rigged up in the event we found a triple tail or chicken dolphin. We found them and I boated these before anyone got a bump on the big grubs they were slinging. Even after the fish got hip to what was going on, they couldn't lay off of them. These were caught in about 10-15 minutes before the captain said enough! We left to catch barracuda, a few kings and a rainbow runner. I could have caught those on light tackle all day!!! Lots of fun.
- Jason Carruth
August 2013
Congratulations to Ben Duchesney of West Barnstable, Massachusetts, the latest winner of the Buggs Fishing - Catch of the Month contest! Ben fishes the flats off Cape Cod and caught this striper fishing from his kayak. He was using a 1/4 oz. Beastie Bugg in the Natural Color. Check out the picture and hear his story...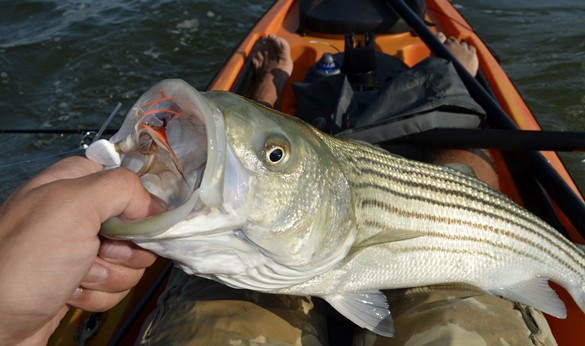 Hey Heath, just wanted to send you that photo of the striper caught on a natural Beastie Bugg. I've been both sightcasting with the jigs and slowly reeling across flats and having great success. I also trolled with the natural Beastie Bugg, just as I was paddling into shore, not thinking they'd bite a moving crab pattern, but they've been nailing it. I've caught three nice fish while trolling and bouncing the jig along the bottom. Hope you enjoy seeing your jig in the mouth of another species. I'll be telling all my buddies I fish with they have to use these because they've been the most productive lure in my spinning rod tackle box.
- Ben Duchesney
September 2013
Congratulations to Rob Woodrow of Houston, Texas, this month's winner of the Buggs Fishing - Catch of the Month contest! Rob and his friend Jason took a trip to Belize recently and absolutely wore out the fish on the new Bonefish Buggs! Here's his story.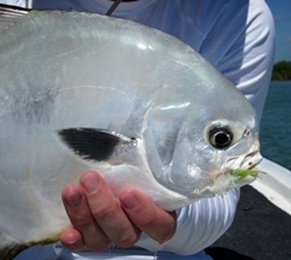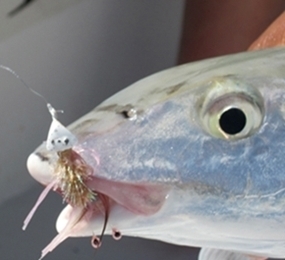 So a few months ago, my buddy Jason and I decided we needed a fishing vacation for a few days and decided a trip to Belize sounded just right. So being rusty with our fly rods we decided to bring spinning gear instead. I have always had luck with the Buggs Curl Tail jigs, and saw that Heath just came out with his Bonefish Buggs. I told Jason about them and we each ordered up a box full. I told Heath where we were going, and he did his research. He sent us the colors he thought would work, with a nice letter and a couple of Curl Tail Buggs thrown in at no charge. Now the fun begins when we get to Belize...
The weather was perfect, winds were light, and we got to work putting the Buggs in action. We get on a flat in about 8" of crystal clear water and see a few permit digging for crabs in the sand. Now if you have ever attempted to catch a permit, they are legendary for being the spookiest and hardest fish to catch in the flats. I throw a perfect cast a foot a way and give one quick bump and BOOM, he's on. Imagine a lightweight rod, with 6 lb test and a screaming permit. A few seconds later, Jason hooks up for a double. 10 minutes later, they're in the boat! We snap our pics, release them, and continue on...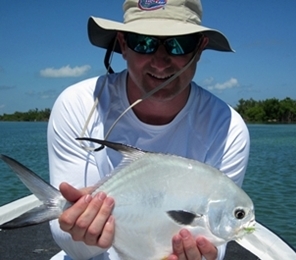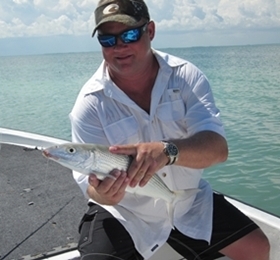 Bam, a bonefish slams Jason's Bugg. He gets released... Then a mutton snapper hits his Bugg. Then a barracuda, yes a barracuda nails it! Hook in the side of his mouth so the 12 lb leader didn't break. Then another bone. Next a mangrove snapper, and finally a jack crevelle within an hour. He had a tarpon chase it, but sadly Jason pulled it out of his mouth. Could you imagine a flats slam of a bonefish, permit, and tarpon on a 1/16 oz jig!!!! We had great success all trip! They were so good and our guide was so impressed, we decided to leave them with him so his future clients would enjoy!!! I just wanted to say thanks for the great trip and the great lures!!
- Rob Woodrow
November 2013
Congratulations to Christopher Gibson of Houston, Texas, the latest winner of the Buggs Fishing - Catch of the Month contest! Christopher sent me a message through the website that said, I just got back from Venice, La and we caught a pile of 25-30 lb Redfish. (all released) The bugg was the ticket! He was using 1/4 oz. Curl-Tail jigs in a variety of colors and said he had some good pictures to show me. We he wasn't kidding! This is one of the best shots I've ever seen! I'll let him finish the story...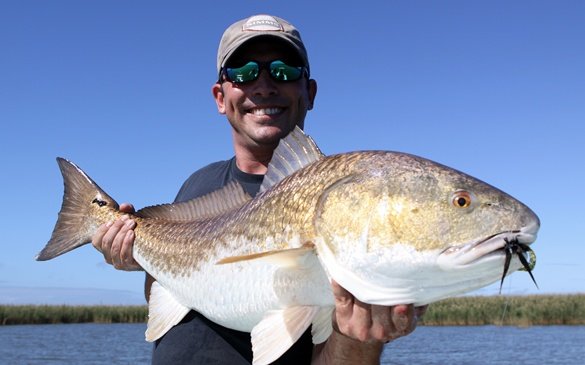 But a little background: My brother-in-law and i packed up his boat and went to Venice, LA last weekend. While it was cloudy our first day, the second was clear. The redfish you see was sight casted about 50 feet away. That big girl just gobbled up my Bugg and proceeded to run into the tall marsh grass. We had hell getting in there, untangled and finally landing the fish! We probably caught 8 fish that were 25lbs or bigger, and a handful of 15-20lbers. Great bait. It will always have a place in my tackle box.
- Christopher Gibson
---
Home
> Catch of the Month
---