Ratic Shad Buggs
Ratic Shad Buggs are the first tied jigs that dart back and forth on the retrieve.  This action is deadly on all game fish, and is utilized in hundreds of different soft plastic and hard baits.  They're tied with a special combination of rabbit strips, flash, lead weights, and other popular fly tying materials.  These materials form a realistic profile that looks alive when swimming or on the fall.  Ratic Shad Buggs imitate shad, one of the most widely distributed bait fish in the United States.  In large freshwater lakes and rivers, all of the most sought after game fish eat shad, including largemouth bass, striped bass, spotted bass, crappie, and white bass.  In saltwater marshes, bays, and creeks you'll find snook, striped bass, speckled trout, redfish, flounder, and tarpon chasing shad and similar baitfish.  We are incredibly excited to release these jigs.

Ratic Shad Buggs come in two sizes.  The top size is 3" long, and weighs 3/8 oz. when wet.  The bottom size is 2.5" long, and weights 1/4 oz. when wet.  Just like the baitfish they imitate, these jigs have a prominent spot behind their eyes.  Flash extends from the sides to the tail, and they have a special accent fiber at their throat.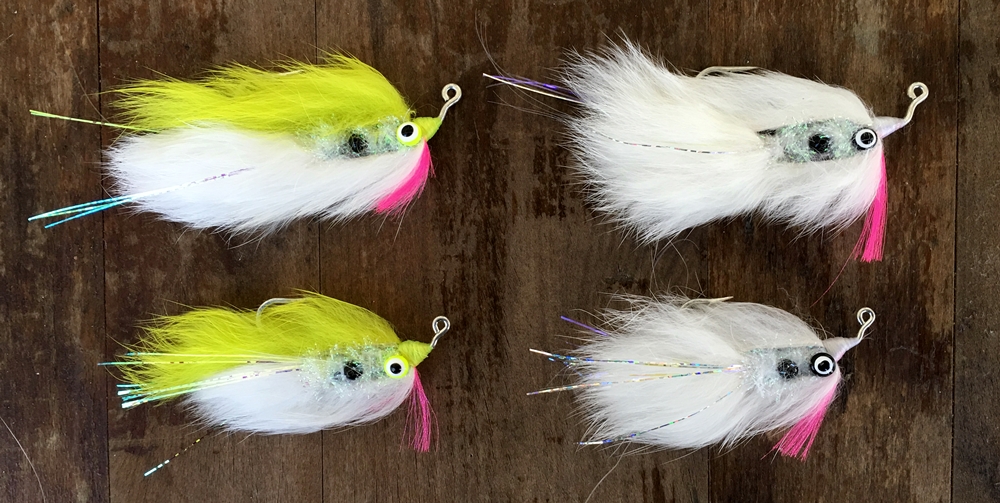 Ratic Shad Buggs sink slowly, making them more effective when game fish are pursuing shad near the surface.  When retrieved, they dart back and forth with an erratic action as you twitch your rod tip.  They fall evenly, and the rabbit strips they're tied with give them lots of action. 

Click Here to Buy Ratic Shad Buggs in the Online Store!

Below is the story behind this jig, including the famous fly fishing guide who was eager to help, the fly tyer who imitated a soft plastic and helped inspire the design, the new components we developed to make it possible, and the early success catching what Lefty Kreh calls the biggest challenge he's faced as a fly fisherman.  All relevant links are included at the end.

The Ratic Shad Buggs Story
I never knew you could get a fly or a tied jig to dart back and forth when you work it. I didn't know it was even possible to get that action. But a series of conversations led me to the discovery.  Here's how it went down...
Coincidental Conversations

A customer of mine named Jake called me one day from the Atlanta area. He was really excited about Buggs, loved my ideas, and told me about the type of fishing he did at a place called Lake Lanier. I had never heard of the place, but soon learned it was a huge reservoir northeast of Atlanta with healthy populations of largemouth bass, spotted bass, striped bass, and crappie. Jake is a striper fisherman, and he explained that he was eager to try Buggs. He also encouraged me to talk to a local fly fishing and light tackle guide named Henry Cowen.
That name rung a bell, and I remembered reading some of the articles he wrote and learning about the flies he designed for Umpqua Feather Merchants. Umpqua is the biggest name in flies, and so I knew he was talented. What I didn't know was how willing Henry was to tell me about striper fishing on Lanier and the type of Bugg he thought they'd hit. Somehow Jake convinced Henry to call me, and I eagerly took his call and proceeded to talk with him for over an hour. He was full of advice and encouragement, and started me down the path that led to Ratic Shad Buggs.
Talking to Henry was like drinking from a fire hose. The man is full of knowledge and talks fast. I was furiously taking notes, and at the end of our conversation a few things stuck out in my mind. I learned that stripers can be really tough to catch. To illustrate this point, Henry told me that he once asked arguably the most famous fly fisherman in the world, Lefty Kreh, about the most challenging fish he encountered.  His response?  Freshwater Stripers when they're chasing small bait! During these times, Henry explained, fishermen must match the hatch.  Shad are what they're eating, and he sent me a picture of the shad he was talking about and the fly he ties to catch striped bass.  Here it is...

He also said it was important that the fly stay high in the water column, have some action when you worked it, and fall naturally. Then he sent me looking for a fly called Sellers SST.
Full Circle Fishing Lure Design
The Sellers SST fly is tied by a man named Dave Sellers. He was challenged to come up with a fly that would mimic the darting, erratic action of a Super Fluke. The Super Fluke is a soft plastic baitfish imitation, popular with all types of fishermen.  After "obsessing over it for three months" Dave figured it out. The key was the placement of the weight. When the weight was placed at the back of the fly, near the bend of the hook, that darting, erratic action was achieved. I found the story and recipe on Dan Blanton's website, and saw how Dave was able to get the weight back there.
Then the wheels began turning.... Dave tied his fly on an Eagle Claw 413 jig hook, the same hook I use on my bonefish jigs. I had some laying around, and was a fan of the hooks. They're strong, made for saltwater fishing, sharp right out of the box, and reasonably priced.
Then I started thinking about the weight. I didn't have one, but I had an old idea in my head and maybe this was just the excuse to get something made. I had experimented with tungsten shrimp body weights on a mullet prototype. They worked fairly well, but were too light. And tungsten molds were a lot more expensive than lead. But the tungsten weights gave me a starting point for the idea.
I made a call to my friend Steve at Mineral Springs Casting Company. I described to him a half-oval shaped lead weight that would have a groove in the top for a hook shank and ribs on the side. He said it wouldn't be a problem and asked me to send him specs. I sent him specs for two sizes, 1/8 oz. and 1/16 oz. He wasn't kidding when he said it wouldn't be a problem. A couple of weeks later my first shipment arrived and they were spot on!


Above on the left you'll see the tungsten weights I was talking about.  In the middle are the 1/16th oz. Buggs Belly Weights, and then on the right are the 1/8th oz.  With the weights in hand, I determined that tying stainless steel wire to the hook shank gave me a way to attach the weight where I needed it near the bend. This would form the foundation for Ratic Shad Buggs.
At this point I had to smile. A fly tyer figured out how to mimic the action of a conventional lure. Now I was was using the fly tyer's idea to bring it back to the conventional side of things. As I brought it back, my goal was the same with all of my Buggs. Use my skill as a tyer, with rabbit strips as the main ingredient, to create an effective fishing lure while drawing inspiration from the best fly patterns and fly fishermen.
Almost There
During our conversations about the flies he ties for stripers, Henry told me about a flash material he uses for the throat. It's called fluoro fibre, and he absolutely raved about the way it shines in the water and seems to change colors in the sunlight. I couldn't ignore this advice, so I sought it out and found a healthy supply.
Rabbit strips would of course be a main ingredient, and my longtime supplier Hareline Dubbin would provide everything I needed. Shad have an iridescent quality to them, and so I decided to use krystal flash chenille along the sides. And for some extra flash at the back I incorporated flashabou.
When I began researching the different types of shad, I noticed all of them had a spot behind their eyes. I was determined to include this identifying mark on my Ratic Shad Buggs, and tried to use some standard size black bead chain. The standard size was too small, so I found a US based company that supplied me with a larger option. Thankfully, they offered a stainless steel bead chain coated with black epoxy. Just as I was set to order the standard dumbbell lead eyes, Hareline introduced a double pupil version that added a little something to the look. I went with it. The paint job is really clean and they look great.
Early Success
The prototypes started slowly coming off my vise and making it into the pool. And what do you know, the lead placement worked! The Ratic Shad Buggs prototypes darted back and forth on the retrieve, and fell evenly just like I wanted them to. I had achieved the erratic action I was looking for and was really excited. This was in June of 2015, and I had just the place to test them out. I had a business trip to North Texas planned for early July, and called my friend Kyle. He lives in Denton and is an excellent fisherman. He agreed to take me bass fishing on Lake Ray Roberts. The problem was, due to the severe flooding earlier in the summer, the lake was still really high and only one launch was open.
We fished hard one afternoon, each of us trying several different lures and methods. Fishing was really tough and neither of us had a bass to our name until late in the afternoon. We were fishing in a cove and behind us a school of shad erupted as white bass pushed them to the surface. I immediately grabbed my spinning rod and tied on a 2.5" Ratic Shad Bugg prototype. I cast the lure in the direction of the commotion, let it sink, and began slowly working it towards the boat. On the third cast, I felt a thud and started fighting a fish. My immediate thought was, "I'm about to catch a white bass on my new lure!"
That thought was replaced by surprise and excitement as a solid largemouth came to the surface! She measured just over five pounds, and I was stoked! Ratic Shad Buggs had produced a solid largemouth during a tough afternoon of fishing! I gave Kyle several of the prototypes for a trip he was taking to South Texas. He called me soon after, telling me about the snook he caught in the ship channel on the 3" version. At this point I knew I was onto something. But I knew there was one final test it had to pass.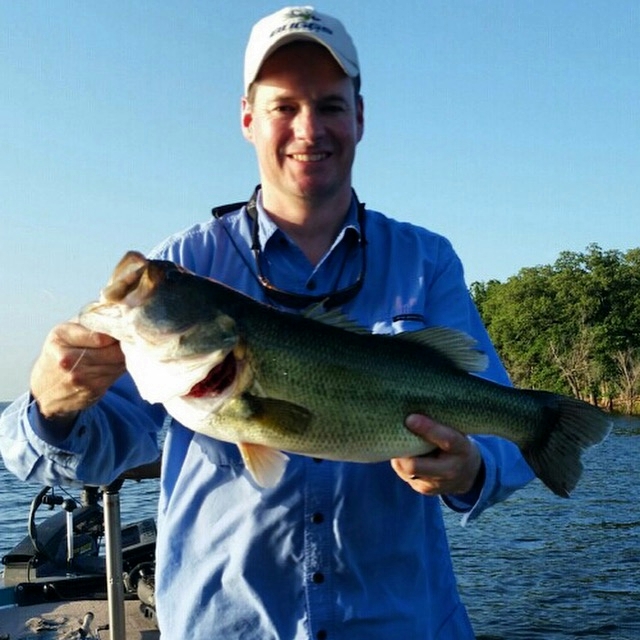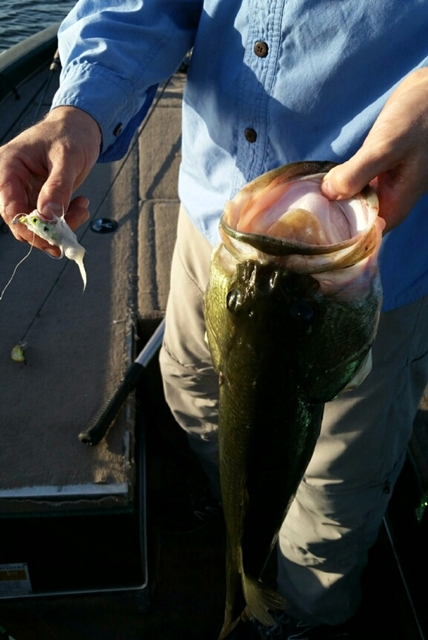 Merry Christmas!
Summer turned into fall and the final preparations were made for my trip to Nicaragua. I gathered the materials, finalized the instructions, and during the first week of December taught the ladies in Diriamba how to tie the Ratic Shad Buggs. I brought home a couple dozen and immediately sent some to Henry. He said they looked great and he would fish them as soon as the weather cooled off.  At this point I wondered, would they be up for the challenge?

Then on Christmas morning I got an email, "Just landed a 10 lb striper. Pictures to follow" Here is the man himself with that first striped bass.
My joy was now complete.
And here is what Henry has to say about the Ratic Shad Buggs:
Back around 2005 I figured out how to successfully catch striped bass in fresh waters using flies when the fish were chewing on tiny 1" to 3" baitfish. The smaller the bait, the harder it was to feed them. We would be around half a dozen boats using conventional gear and out fish them 6 or 7 to 1 with the fly. The reason is that the smaller fly matched the bait better and suspended longer in the fishes strike zone. Fast forward to 2015… Your Ratic Shad Buggs have now cracked the code for the conventional angler. Bucktail jigs fall thru the fishes strike zone far too quickly missing many an opportunity for the fish to eat. But your bait was just what the conventional fisherman needed to successfully get what may be considered one of the hardest fish on the planet to eat a bait when they are dialed in to super small baitfish. Kudos to you my friend!
Henry Cowen
Striped bass guide (fly & light tackle) Lake Sidney Lanier
A couple weeks later I received another testament to the character of Henry Cowen. On that Christmas Day fishing trip Henry fished alongside a couple guys who saw him catch lots of fish on his Ratic Shad Buggs. They were conventional anglers, and Henry gave them a couple of Buggs to try for themselves. I received an email from one of the guys, wondering where he could buy some more. They had caught some really good fish on them and we had a nice conversation. They bought a healthy supply and have been sending me pictures every week of the stripers they're catching on Ratic Shad Buggs.
What about Saltwater?
One of the cool things I learned from my research was how widely distributed shad were.  And when I looked at their shape, I realized an imitation of them with the same profile would imitate several different types of saltwater bait fish.  I already mentioned the snook and redfish my friend Kyle caught in South Texas.

Recently I traveled to South Louisiana and left several from the first production run with my friend, fishing guide Jeff Arnold.  He's sight casted several redfish with the 3" version, as has my friend Rex DeGuzman.  And I can't wait for the spring when thousands of shad roam the bay system and get crushed by speckled trout.

What's With The Name?
Ratic! is an abbreviated version of "erratic" and is now a Buggs trademark. (So Hippel, why would you trademark the name if you didn't have other ideas for this type of lure? Answer: You're pretty quick!) I knew erratic would be too much of a mouthful, but I wanted the unique action of these lures to be included in the name. So Ratic! it was. You'll see an exclamation point on the packaging.  This represents the excitement I have for the action of this lure. The possibilities are endless!
How Do I Fish It?
Well I'm glad you asked. As with all Buggs, tie on your Ratic Shad Buggs and hold them under the water. Now squeeze the rabbit strips between your fingers and watch the little air bubbles escape. The rabbit hide holds little air pockets, and when you squeeze the hide two things will happen. First, the hide will absorb water, making your Buggs heavier and easier to cast. Second, your Buggs will absolutely come alive! Nothing moves like rabbit strips, and Ratic Shad Buggs are no exception.
Once it's wet, soaked all the way through, make your cast and let it sink a little. It falls evenly, and the rabbit strips give it great action. You might get hit on the fall so make sure you're holding on tight! Work it back to you with a slow and steady twitching retrieve, like you would fish a topwater. Give it a twitch and then a little slack, and repeat. You'll see it dart from side to side as you do this, and you'll see that Ratic! action I'm talking about.
There are two sizes, and they both have the same action. The 2.5" version will be about ¼ oz. when it gets wet. If you're not getting enough distance, tandem rig two Ratic Shad Buggs and watch them dart in unison! The 3" version is 3/8 oz. when wet, plenty heavy on most rigs to get good distance on your casts. They both sink slowly, an important factor when fish are chasing shad near the surface and when sight casting in shallow water.
The Final Word, and The Beginning of the Story
I mentioned earlier that my joy was complete when Henry sent me a picture of that 10 pound striper he caught on Lanier. That is partially true. At that moment I experienced a little bit of success on the original intent of the lure. But I know there are hundreds of different places where Ratic Shad Buggs will work. And that is where I could use your help!
I do this for several reasons. I get a creative outlet, a way to think about fishing when I can't be on the water, and because I believe God gave me a gift and I want to glorify Him with it. And the payoff occurs when I see you, with a big smile on your face, holding a fish with a Bugg in it's mouth. I feel like I was right there with you, and it makes my day!
Let me invite you to write your own chapter, and experience your own success with these lures. Consider buying a few of these Ratic Shad Buggs or one of the kits we're making available. I know they'll work in lots of different places, on lots of different fish, and I can't wait to see your pictures and get your reports!  Any questions?  My contact information is below.

Tight Lines,
Heath Hippel
Owner and Founder, Buggs Fishing
heath@buggs-fishing-lures.com
713-724-4010

Related Links

Buy Ratic Shad Buggs in the Online Store.

In the Atlanta area? Go go fish with Henry Cowen!
Tie the Dropper Loop to Tandem Rig your Buggs.

Read about the Sellers SST Fly and See the Recipe.
Need Custom Jig Heads or Weights?  Talk to Mineral Springs Casting Company.
Fish with Alaska and South Louisana Fishing Guide Jeff Arnold.