Money Maker Salmon Fly
Nate's Money Maker Salmon Fly is a killer pattern I used with great success on an unbelievable trip out of Lake Marie Lodge near Anchorage, Alaska. Most all of the flies we used were a combination of bunny and flash. Some contained marabou, and others used long hackle. The Money Maker was the best, however, and I'll share it with you!
The trip to Alaska was unforgettable. Never before had I seen such huge fish in such small water. These King Salmon migrated up into small creeks and rivers, often stacking up by the dozen in shallow pools. This was very tough fishing, however, as the fish weren't there to eat and could see us trying to catch them. We spent hours casting to these cruising and holding fish, only to see them continually refuse our offerings. And when they did take the fly, their sheer power and obstructions in the river more often than not resulted in us losing fish.
When it all came together, however, the result was a strong fight won against a powerful and beautiful fish! Nate's Money Maker Salmon Fly proved to be the perfect combination of flash and bunny, and accounted for my biggest fish of the trip and most successful day. The lodge has a big fly tying bench in the main room of the cabin, and it was a gathering place for the guides and fly tyers in the evenings. I watched one of the guides tying one night. Nate Frye is his name, and I overheard him say, "This is the Money Maker." What a cool name for a fly, and boy does it deliver!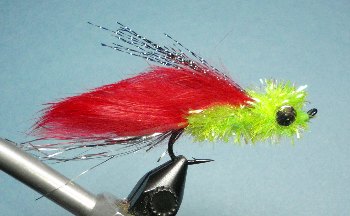 The example above was tied with a standard bunny strip secured at the tail over silver flashabou. The chartreuse crystal chenille underbody is wrapped forward towards the dumbell eyes where the bunny is secured and a black flash wing is applied. The chenille is then wrapped to the hook eye. We tied it on a size 1 salmon fly hook, and this was just enough as a few of the beasts tempted to straighten it out!
This fly brings back great memories, and will also serve as inspiration for future Buggs. A baitfish pattern will be developed in the future, and this combination of bunny and flash is right up our alley!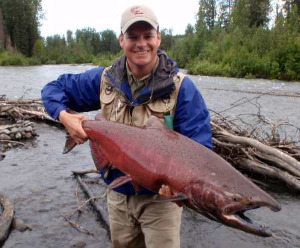 King Salmon
The Money Maker in Action!
The fish above was caught on Nate's Money Maker Salmon Fly. This was my biggest of the trip and measured over 40 inches! We stayed at the Lake Marie Lodge. They were wonderful hosts and have access to some great water to fish. And if you go, bring plenty of bug spray, don't miss Mike's rolls, be sure to sing or play along with Nate and the boys, fish with Brad if you can keep up with him, and don't get discouraged when those stubborn kings refuse your fly. They'll reward you if you keep at it!
We hope you've enjoyed the story of Nate's Money Maker Salmon Fly and hope you'll visit Alaska one day and give it a shot. Stay tuned as we develop more lures based on this and other successful fly patterns, furthering our mission and proving that "Tied Like Flies, Fished Like Lures, Buggs Catch Fish!"
---
Home
>
Fly Tying Patterns
> Money Maker Salmon Fly
---